Description
Qpol 300 M1
Grinding & Polishing Machine
The Qpol 300 M1 is a manual, single wheel grinding and polishing machine for working wheels Ø 250/300 mm.
In the ergonomically integrated touch panel, all process parameters as well as convenient features for manual preparation are clearly displayed and can be easily changed at any time. All process parameters can be saved as a preparation method. The adjustable timer and the torque display for visualizing the current grinding pressure enable comfortable and reproducible manual preparation steps. The water valve is automatically switched on/off when the preparation starts or ends.
A spin cycle function (Cleaning Boost) helps to spin dry the grinding and polishing medium at 750 rpm at the end of the preparation process within 3 seconds and then turns off the device. The particularly strong, speed-controlled drive makes this model suitable for all preparation steps and materials. In addition, the working disc can be operated in clockwise / counter-clockwise rotation.
The impact-resistant plastic bowl, the powder-coated aluminium housing and the high-quality components inside the device are the basis for smooth running and best preparation results. The robust device can be retrofitted with the Qpol Go automatic grinding and polishing head and combined with the Qdoser GO and Qdoser ONE manual dosing system. It therefore offers a high degree of flexibility and comfort during sample preparation.
Product Advantages
Single wheel grinder / polisher for metallographic sample preparation
Variable speed
Visualization of the current grinding force
Timer function
Automatic water valve
Aluminium case, powder coated
Clockwise and counter-clockwise rotation
Easy cleaning/rinsing of bowl by lifting the working wheel (single-disc design)
Impact-proof plastic bowl
Retrofittable automatic grinding/polishing head Qpol GO
Features
| | |
| --- | --- |
| Working wheels | Ø 250/300 mm |
| Speed | 30 – 600 rpm, continuously adjustable |
| Connection power | 1.8 kVA |
| Drive power (main drive) | 0.75 kW (S1) |
| W x H x D | 511 x 265 x 710 mm |
| Weight | ~ 37 – 45 kg |
| Water connection | 1x fresh water connection R½" max. 6 bars |
| Dosing system (option) | Qdoser GO or Qdoser ONE |
| Polishing head (retrofittable option) | Qpol GO |
QDOSER GO
The automatic dosing system QDOSER GO is universally suitable for use with all manual grinders. Four 500 ml glass bottles with screw caps hold 3 x suspension and 1 x lubricant or 4 x Dia-Complete and can be filled via a separate lid. They are easily removed for cleaning.
The holder for dosing nozzles for manual dosage may be freely positioned on the machine. The dosage interval can be variably set via the control panel. The backflushing function keeps the hoses clean.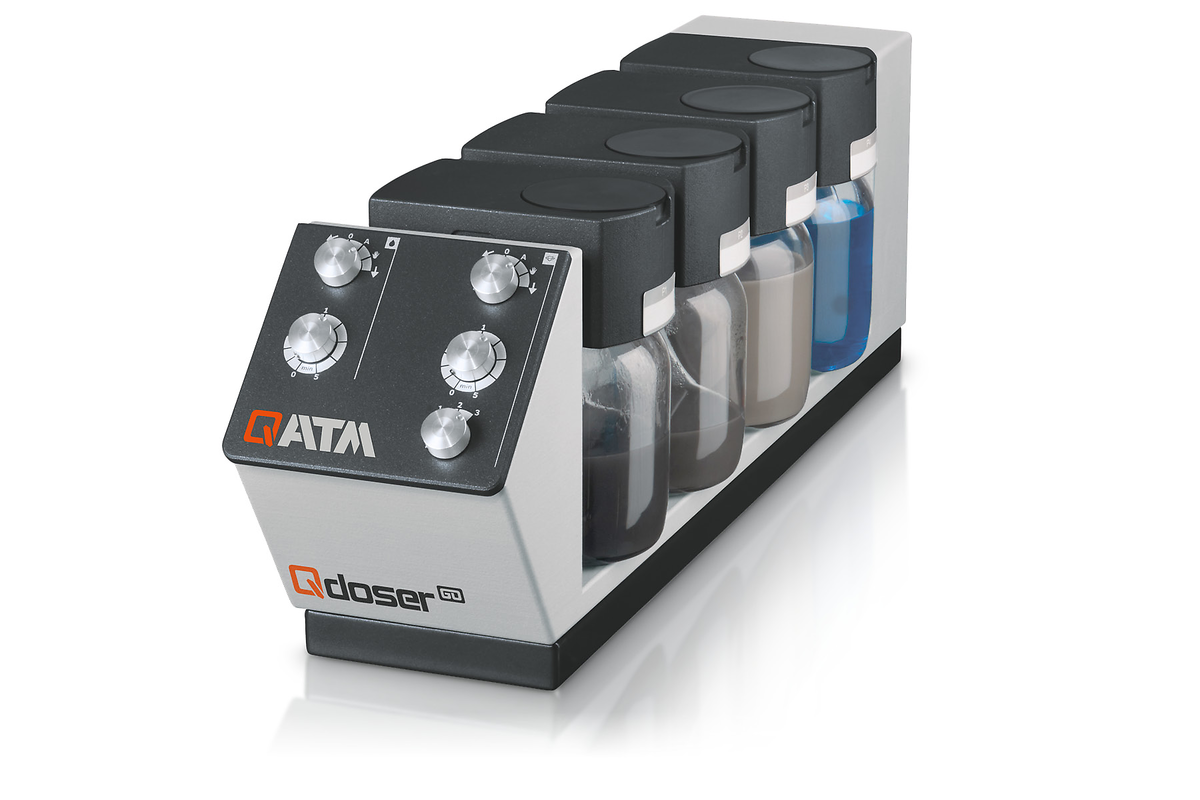 Automatic dosing unit for
3x diamond suspension and 1x lubricant or
4x Dia-Complete
Dosing interval adjustable
Reverse rinsing function
Manual or automatic mode
For all grinders and polishers
Suspension containers refillable and removable