Description
Qpol GO
Grinding & Polishing head
The Qpol GO grinding and polishing head enables the perfect introduction to automatic sample preparation and can be combined with the single and twin wheel grinding and polishing machines Qpol 250 M1 / 2 and Qpol 300 M1 / 2.
The established technology, simple construction and the intuitive operating concept allow simple and fast preparation steps. The grinding/polishing pressure (single pressure) and the preparation time can be continuously adjusted using the corresponding rotary control directly on the grinding and polishing head. The working area of the polishing head is easily accessible and visible thanks to LED illumination and the particularly slim design.
The robust device can be combined with a dosing dropper bottle Qdoser ONE that can be screwed onto the polishing head or the Qdoser ECO dosing system and offers maximum flexibility for sample preparation and operating convenience. With the appropriate preparation, Qpol GO can be retrofitted on the manual grinding machines.
Product Advantages
Variable single pressure
Adjustable timer for preparation time
Toolless sample holder clamping
Aluminium case, powder coated
Retrofittable on Qpol 250/300 M machines
Economic LED illumination
Features
| | |
| --- | --- |
| No. of samples (single pressure) | 1 – 4 samples Ø 40 mm |
| Sample holder | Ø 120 mm |
| Single pressing force | variable, 5 – 45 N |
| Speed (head) | 150 min-1 |
| Drive power (head) | 60 W |
| Weight | 18.5 kg |
QDOSER GO
The automatic dosing system QDOSER GO is universally suitable for use with all manual grinders. Four 500 ml glass bottles with screw caps hold 3 x suspension and 1 x lubricant or 4 x Dia-Complete and can be filled via a separate lid. They are easily removed for cleaning.
The holder for dosing nozzles for manual dosage may be freely positioned on the machine. The dosage interval can be variably set via the control panel. The backflushing function keeps the hoses clean.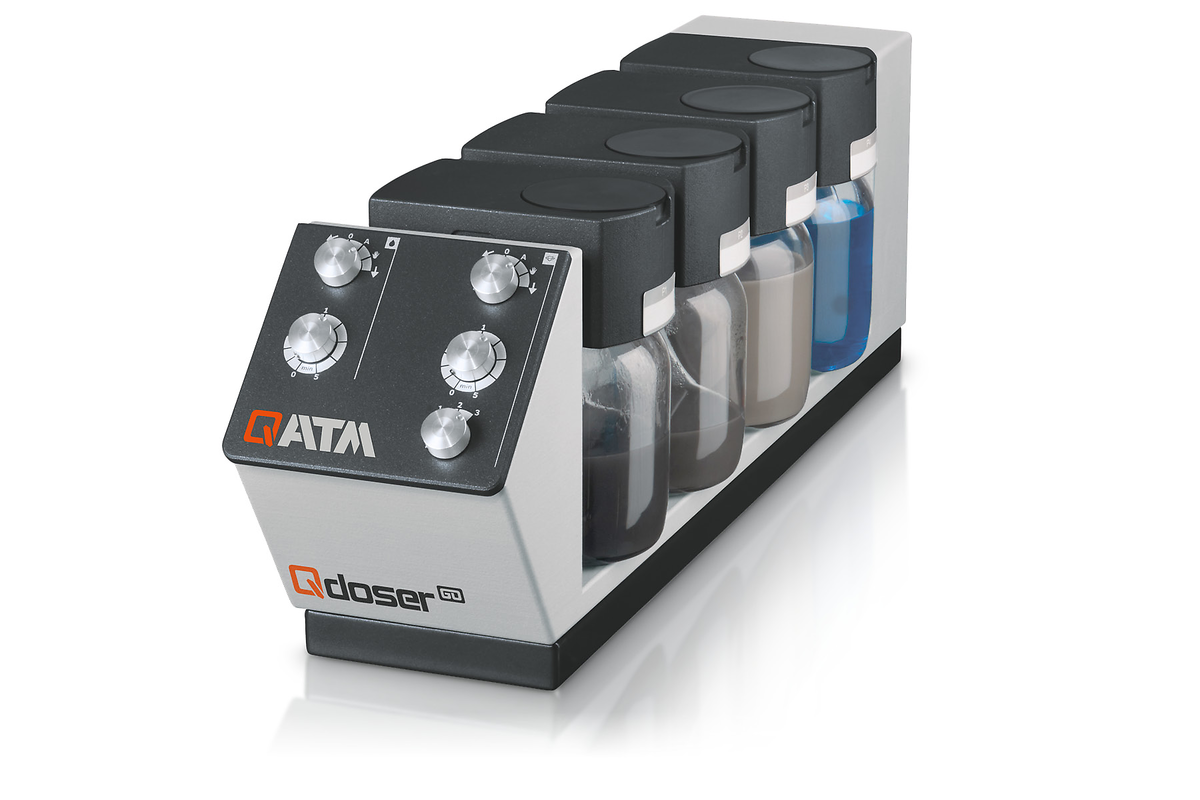 Automatic dosing unit for
3x diamond suspension and 1x lubricant or
4x Dia-Complete
Dosing interval adjustable
Reverse rinsing function
Manual or automatic mode
For all grinders and polishers
Suspension containers refillable and removable